EDIT MAIN
CTE
---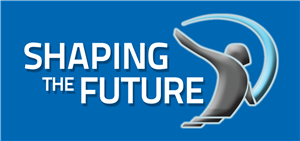 Department Info:

Supervisor: Renny Whittenbarger
Email: rwhittenbarger@clevelandschools.org

Department Head: Erin Hattabaugh
Email: ehattabaugh@clevelandschools.org

Administrative Assistant: Maranda Reffner
Email: mreffner@clevelandschools.org
Courses Offered
Air Force JROTC
Automotive
Business Technology
Cosmetology
Criminal Justice
Culinary Arts
Digital Media Production
Engineering
Health Science
Marketing
Robotics
Teaching as a Profession
Web Design
Welding
Work Based Learning
School Based Enterprise
Computer Science AP
English
---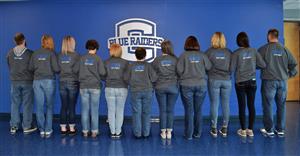 Department Info:

Department Head: Athena Davis
Email: adavis@clevelandschools.org

Faculty:
Anna Spears, Jennifer Colbaugh, Athena Davis, Kaitlyn Poulakis, Caitlyn DeLoach, Brian DeLoach, Amelia Ribeiro, Mallory Pickert

Mission Statement: Blogs, tweets, journals, resumes,
reports, essays, research, stories, poems, or even novels
are all part of the writing skills used today. The
diversity of skills needed throughout life is met by the
English Department at Cleveland High School. Students
earn the required four credits for graduation and also
have the opportunity to take elective classes. The English
Department wants CHS graduates to leave with the skills
they will need in their future personal and professional
lives.
Courses Offered:

English I; English I Honors
English II; English II Honors
English III; English III AP Honors
English IV; English IV Honors/AP;
English IV Honors/Dual E
Holocaust Literature
Creative Writing
Bible as Literature
Yearbook I-IV
Public Speaking
Film and Media
English Tier 3 Vocabulary
---
Fine Arts
---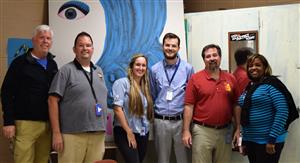 Department Info:

Department Head: Don Markham
Email: dmarkham @clevelandschools.org

Faculty: Chip Atha, Colin Campbell, Sigrid Orr, Jim Burton, Rhonda Ferguson Courses Offered:

Art I & II
*Art III & IV: Honors Courses
Theater I, II, III
Music Appreciation
Ebony & Ivory(Coed Choir)
Silhouettes(All Girl Choir)
Renaissance(Show Choir)
Marching Band
Concert Band
Survey of Fine Arts
Department Links:
---
Foreign Language
---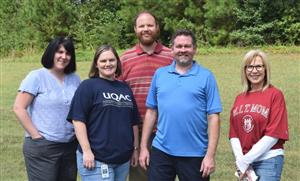 Department Info:
Department Head: Jeremy Smith
Email: jersmith@clevelandschools.org
Faculty: Jeremy Smith, Carole Dale,
Micah Bradbury, Nicole Williams, Susan Rodriguez,
Karina Burgueno

Mission Statement: The Language Department at
Cleveland High School consists of three languages:
Spanish, French, and German. Students will not only
learn to read, write, and speak the language, they will
also learn about the culture behind the language. There
are many creative projects in each class centered around
the geography, traditions, and people of each foreign
country. Courses Offered:

French I and II
German I, II, and III AP Honors
Spanish I, II, III, IV, and V
Foreign Language Tier 3 Words
---
Math
---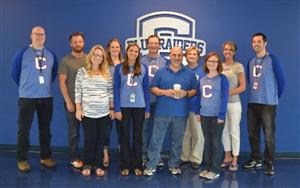 Department Info:
Department Head: Mark MilesEmail: mmiles@clevelandschools.org Faculty: Bridgette Matthews, Brad Self,
Valerie Capps, Delisa Dismukes, Jon Stanford,
Heather Turner, Latishua Scurlock,
Catherine Seymour, Donna Lett, Stephanie
Garcia
Courses Offered:
Algebra IA and IB
Geometry and Geometry Honors
Algebra II and Algebra II Honors
Trigonometry
Pre-Calculus Honors
Statistics
Statistics AP Honors
Calculus Honors
Calculus AP Honors
Bridge Math
---
Science
---
Department Info:
Department Head: Andi Wendorf
Email: awendorf@clevelandschools.org Faculty: Jeanie Long, Eric Blackburn,Sean Russell, Ben Cantrell, Holly Parker,
Richard Boyd, Keith Elliott, Jo Miles,
Bella Krecklow
Courses Offered:
Physical Science
Biology I and Biology II
Environment Science
Chemistry I and Chemistry I Honors
Chemistry II
Physics and AP Physics
Aquatic Biology
---
Social Studies
---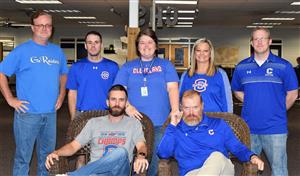 Department Info:
Department Head: Julie Phillips
Email: jphillips@clevelandschools.org
Faculty: Melissa Adams, Nick CantrellAdam Renshaw, Brad Benefield, John Brose,
Jeremy Finch, Steve Stephenson, Steven Mullins, and Seth LaManga
Courses Offered:
Human Geography AP Honors
Modern World History Honors
American History GL/AP/DE/H
American Government/Economics
American Government Honors
Contemporary Issues Honors
Early American History Honors
Economics Honors
European History AP/DE/H
Psychology GL/AP/DE/H
ACT Prep
Music History
Social Studies Tier 3 Vocabulary
---
Physical Education
---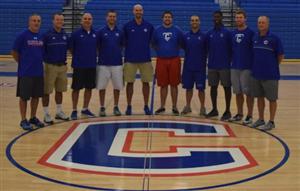 Department Info:
Department Head: Eric PhillipsEmail: ephillips@clevelandschools.org
Faculty: Miles Christian, Casey Hybarger, Preston Scoggins, Jamie Baird, Tom Marino, Tony Williams, Dustin Fromm, Joey Knox, Tracy Malone, Reggie Tucker, Marty Wheeler
Courses Offered:
Wellness
Personal Finance
Team Sports
Physical Education
Weight Lifting
Personal Fitness
Lifetime Fitness