EDIT MAIN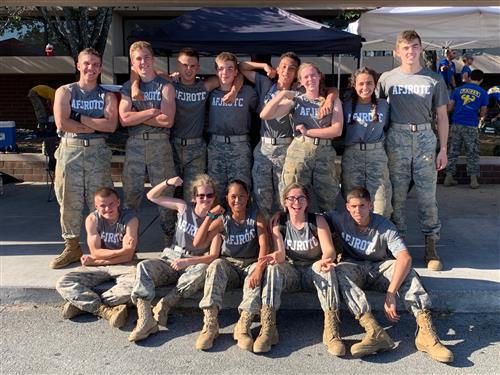 ---
AFJROTC Mission: Develop Citizens of Character Dedicated to Serving Their Nation and Community
---
AFJROTC Motto: Building Better Citizens for America
Goals
Instill values of citizenship, service to the United States, personal responsibility, and sense of accomplishment.
Personnel and Resources
The Air Force Junior Reserve Officer Training Corps staff includes 31 Headquarters personnel and nearly 1,900 retired Air Force officer and enlisted military instructors. There are 900 Air Force Junior ROTC units with over 120,000 cadets in high schools across the United States and selected Department of Defense Dependent Schools (DoDDS) in Europe, the Pacific, Puerto Rico, and Guam. Contingent on funding, the Air Force plans to expand to 955 units by 2020. With the addition of new units, AFJROTC is expected to reach over 130,000 cadets worldwide.
Organization
AFJROTC provides citizenship training and an aerospace science program for high school students. Secondary school students who enroll in the AFJROTC program are offered a wide variety of curricular and co-curricular activities. The program explores the historic and scientific aspects of aerospace technology and teaches high school students self-reliance, self-discipline, and other leadership characteristics. Science, Technology, Engineering, & Mathematics (STEM) concepts are also an important part of this world class program. The AFJROTC program is open to 9th-12th grade students who are citizens of the United States. By Title 10 USC, the program is a citizenship program and not chartered as a recruiting program for the military services and those students who participate in AFJROTC do not incur any obligation to the Air Force.
AFJROTC objectives are to educate and train high school cadets in citizenship and life skills; promote community service; instill a sense responsibility, develop character, leadership, and self-discipline through education and instruction in air and space fundamentals and the Air Force's core values of Integrity First, Service Before Self, and Excellence In All We Do.
Community Service
Community service is a major part of the cadet experience and helps instill a sense of civic pride and citizenship. Each year, AFJROTC cadets do more than 1.6 million hours of community service. Projects range from working with national organizations like the March of Dimes, Muscular Dystrophy, the National Red Ribbon Campaign, and Special Olympics, to participating in local community projects such as cleaning and refurbishing cemeteries and building parks.
---
Air Force Cadet Guide